Event
Join us for our Seminar on Advanced & Sustainable Manufacturing in London
Presenting a unique opportunity to gain insights on possibilities within advanced and sustainable manufacturing in the UK and Denmark.
Collaboration and innovation are main drivers to kick-start the sustainable transition in the industry. Invest in Denmark - the national investment promotion agency, invite you to join our seminar on advanced and sustainable manufacturing at the Royal Danish Embassy in London.
Gain insight on the newest British and Danish trends in the manufacturing eco systems and learn more about your possibilities to expand innovation, export and manufacturing activities to Denmark.
Join us
Register for the seminar here
Join in person at the Royal Danish Embassy, London the 5 September 2022 at 12.30-15.00 (UK TIME).
Speakers
hear from innovative startups and Key organisations in the manufacturing eco system 
Made – manufacturing academy of Denmark
MADE is the national Cluster for Advanced Manufacturing with over 220 members. MADE aims at being a one stop shop for Advanced Manufacturing working with Applied Research, Innovation and Education by having a strong network throughout the country. The vision is to enable world class manufacturing in Denmark through the development and implementation of innovative manufacturing solutions.
AM hub
Danish AM Hub is Denmark´s national meeting point for additive production (AM – Additive Manufacturing). They aim to make Denmark a world leader in using AM for sustainability and help Danish production compa-nies take the first steps towards a future where we produce with less waste, less material, less transport and with less CO2 emissions.
MAKE UK
Make UK champions and celebrates British manufacturing and manufacturers. Make UK build a platform for the evolution of UK manufacturing. They stimulate success for manufacturing businesses, helping them to meet their objectives and goals. Make UK empower individuals and inspire the next generation of manufacturers.
AEROPOWDER
"At AEROPOWDER, we believe in the circular economy and in unlocking the potential of hidden waste streams. We have turned our attention to the millions of tons of feathers that are generated every year around the world by the global poultry industry. Our goal is to enable the local production of sustainable materials, anywhere in the world, wherever there are feathers."
Join us
register for the seminar here
Join in person at the Royal Danish Embassy, London the 5 September 2022 at 12.30-15.00 (UK TIME). 
Agenda
12.30: Lunch
Standing lunch.
12.45-13.15: Welcoming and video cases during lunch
Welcome by his Excellency René Rosager Dinesen, Ambassador to the United Kingdom
Setting the scene: Introduction and overview by Bjorn Snorri and Joachim Bjorkmann
Video cases: Two Danish manufacturers BKI Foods and BM Silo
13.15-14.10: Pitches (approx. 20 min. each)
MADE – Manufacturing Academy of Denmark - Merete Nørby, Int. Senior Consultant at MADE.
A presentation on MADE – the national cluster for Advanced Manufacturing - implementing advanced and sustainable technologies in Danish Industry.

AM for a Sustainable Future - Frank Rosengreen Lorenzen, CEO AM HUB.
A presentation of Additive Manufacturing's role in creating a sustainable manufacturing system, how the Danish AM Ecosystem drives this agenda forward and empowers Danish Industry to design, develop and produce the green products of the future.

British circular production startup, Aeropowder - Ryan Robinson, CO-Founder and CEO.
The story behind the success of Aeropowder, its sustainable goals and how deciding to set up produc-tion in Denmark and collaboration with Denmark has helped in its journey.

Make UK – sustainability in British manufacturing - Brigitte Amoruso, Head of Climate, Energy and Sustainability at Make UK.
Overview of the state of UK manufacturing and how the industry is making progress in terms of advancing processes and sustainability.


14:10-14:40: Panel discussion and Q&A
Merete, Frank, Ryan and Brigitte will have a chance to discuss the role of Advanced Manufacturing with-in Sustainable and Circular Production Methods as a panel with a Q&A afterwards.
14.40-Open end: Rounding off and networking
Closing remarks and networking.
Speaker
Merete Nørby, International Senior Consultant, Ph.D. 
Responsible for the international activities in 'MADE – Manufacturing Academy of Denmark', - presently key partner in the EU project ADMA TranS4MErs, that aims to assist SMEs on their Transformation journey towards being factories of the future. +25 years of experience with manufacturing technologies, innovation processes and SCM in a global environment. Prior experience from Technical University of Denmark, Danish technological Institute and Tsukuba University, Japan, working as matchmaker, innovation consultant and manager.
Speaker
Frank Rosengreen Lorenzen, CEO of Danish AM Hub
A philanthropical fund with a vision of creating a more sustainable production system by using additive manufacturing. For more than 15 years Frank has been working with innovation, technology, and strategy for Danish and international manufacturers at the intersection between sustainability, business, and new technology. Frank is also the Co-founder of Carbory, an organization that is deploying carbon finance in tropical forest communities to bring back and maintain rainforests.
Advanced and sustainable Manufacturing cases introduced by MADE
BKI Foods is an SME (active in the food industry), which has always grown on own investments and that has implemented inspiring changes related to 'Eco Factory' transformation (e.g. packaging-related eco innovations) and 'Digital Factory' (e.g. digitalization of flow management).
BM SILO is a top class manufacturer of 'Modular Silos' and you will have the opportunity to experience inspiring examples related to Human relations and collaborative aspects and the implementation of manufacturing top-level LEAN principles.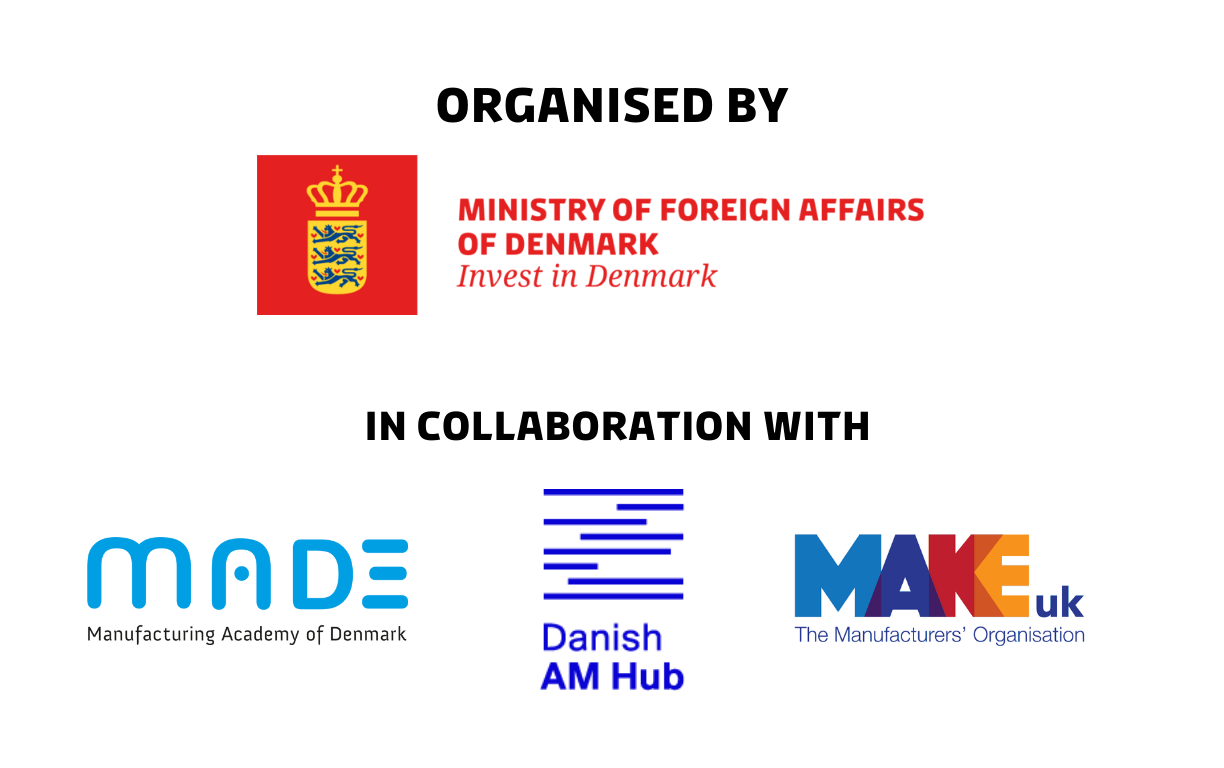 get in touch
For more information please contact:
Loading...