Pharma and BioTech Production in Denmark 
Pharma and BioTech 'produced in Denmark' stands for high quality, high productivity and sustainability.
The combination of an automated and advanced pharma and BioTech production landscape, a supportive business environment, a politically favourable climate to the Life Science industry, a world-class research environment, and a strong, ambitious and innovative life science cluster, all supports the expansion of your production site in Denmark.
Add to that, Denmark has high ambitions and a strong focus on sustainability and the green agenda. All of this creates a highly efficient and professional environment for your company to thrive.

The pharmaceutical and biotech industry is a key sector of the Danish economy. The large pharma- and biotech industry includes several domestic and foreign companies researching and manufacturing pharmaceutical products.
The top reasons for establishing pharma and biotech production in Denmark:  
Denmark is home to a large talent pool – and excels in growing new talents
The Danish life science cluster employs more than 49.000 workers in the industry. Furthermore, medical and health science is the highest priority research area by far, accounting for more than one third of all public research investments, ensuring access to highly qualified employees.
Strategic geographical location with prime supply chains
According to IMD, Denmark has the World's best distribution infrastructure with Greater Copenhagen being Northern Europe's hub for pharma logistics and supply chain. As 90 pct. of the Danish pharmaceutical production is being exported, and approximately 20 pct. of Denmark's total exports are pharmaceuticals, Copenhagen Airport is the Pharma Logistics Hub and holds several Cool Chain Logistics providers.
Risk and Resilience
When planning and investing with a long-time horizon a country's risk and resilience profile is an important factor. Denmark scores high and ranks 1st on the 2021 FM 'Global Resilience Index'.
Denmark provides a low risk production environment such as highly reliable energy supply, minimal exposure to climate changes, low probability of natural disasters as well as strong focus on cyber security. These are all elements that mitigate risks that could otherwise result in delays, breaches in supply chains or even cause factory shut-downs.
A greener and more sustainable Life Sciences Industry
The Danish Life Sciences industry is a perfect example that 'going green' goes hand in hand with growth. Since 1990, the pharmaceutical industry has grown by 1200 percent while the industry has reduced its CO2 emissions by 55 percent and today has a very small CO2 footprint. Danish pharmaceutical companies Novo Nordisk and Lundbeck are both represented on the top list of climate conscious companies, CDP's annual A List, which names the world's most pioneering companies leading on environmental transparency and performance.
Productivity
The pharmaceutical industry is one of Denmark's most productive sectors. According to Statistics Denmark, in the period 2008-2017 the industry had an average annual productivity growth of 2.1 pct., measured as growth in production output per hour, while in the same period the pharmaceutical industry had an average annual productivity growth of 2.4 pct.
Also, a study published in 2021 by the Ministry of Industry, Business and Financial Affairs shows that in 2008 the life science companies created value for approximately DKK 40 billion. In 2018, that figure had risen to almost DKK 92 billion, which means that thy more than doubled value during the period 2008-2018. The life science industry has experienced an average annual growth rate in value added of 9 percent, which is more than three times as high as the figure for the private business sectors, which is 2.5 pct. The growth rate can mainly be attributed to the large pharmaceutical companies.
Politically favorably climate for life sciences
The various Danish governments have taken active steps to boost the life sciences industry by building further on the strong national healthcare system and world-class environment for business and science. Most recently, in April 2021, the government presented a new growth plan for the Life Sciences industry focused on strengthening the framework conditions for the industry even more.
Production in Denmark
A proactive approach to advanced automation manufacturing places Denmark at the forefront of Industry 4.0.
A digital production in Denmark enables transparent and resilient supply chains, which mitigate the risks of delays, breaches in the supply chains or even factory shut-downs.
Energy supply is green, highly reliable and at the same it is Europe's lowest electricity price for non-household use.
Denmark is best in Europe when it comes dealing with construction permits, according to the World Bank.

Doing business in Denmark
Denmark consistently tops the ranking on "ease of doing business" and your new company in Denmark will be set to go within days.
The Danish labor market is characterized by flexibility, highly educated and motivated talent, and high productivity coupled with competitive salary levels in a European context.
In Denmark, companies have very easy access to the authorities that work closely with companies to ensure that establishment and operation run as smoothly as possible.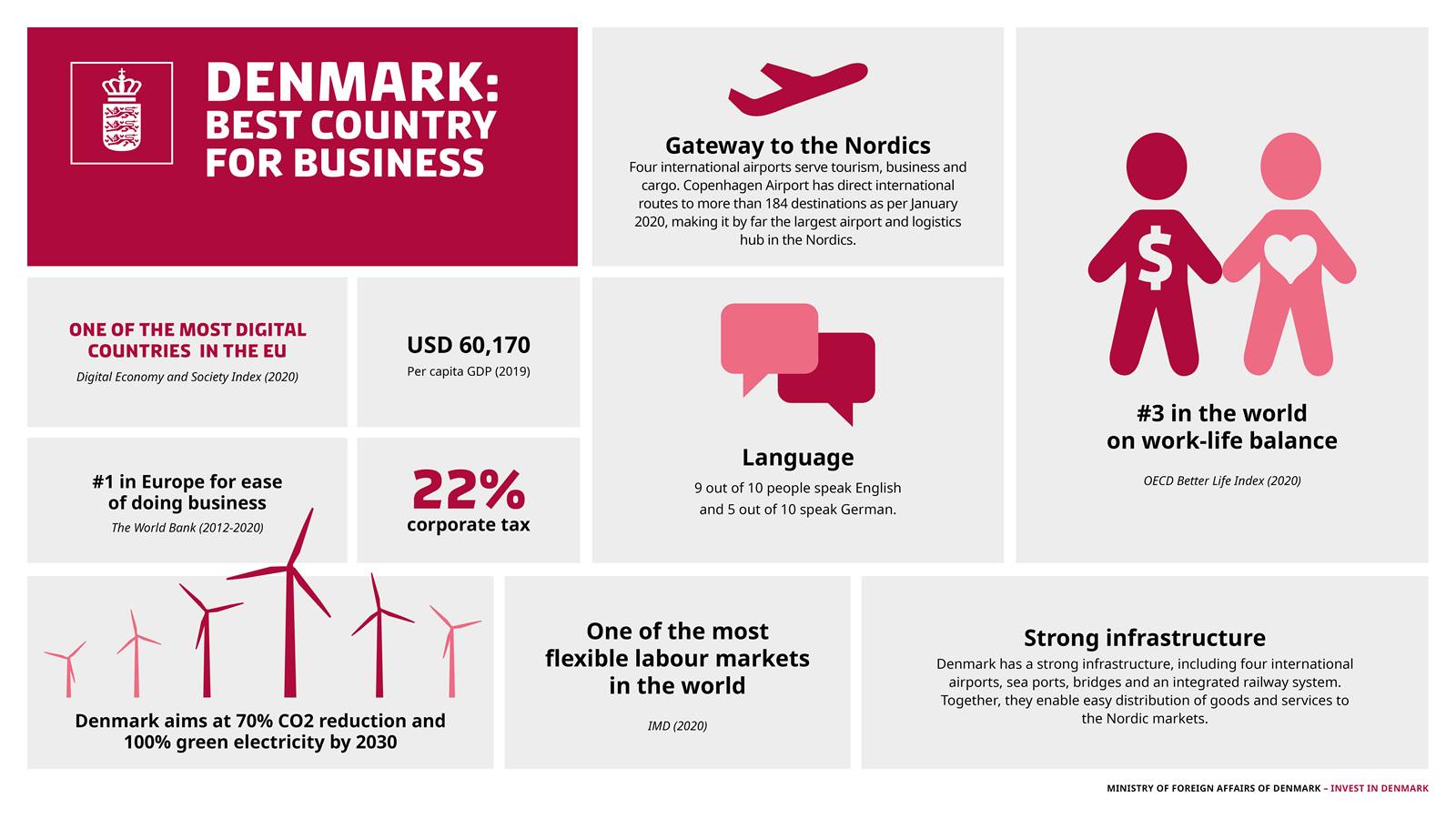 Watch video
Looking for highly skilled people? World-class life science R&D? And a society of trust that enables business excellence? 
After one year of hard work, FUJIFILM Diosynth Biotechnologies have decided to double their investment in Denmark.
Learn more about the company's Danish fairy tale and find out more about the many exciting possibilities within the Danish life sciences sector.
get in touch
If your company is considering Denmark as a location for your production site, we are happy to assist with a tailor made benchmark according to your needs. If you are interested to learn more please contact one of our Life Sciences Investment Managers or the Life Sciences Team in Denmark:
Loading...